HANDSHAKE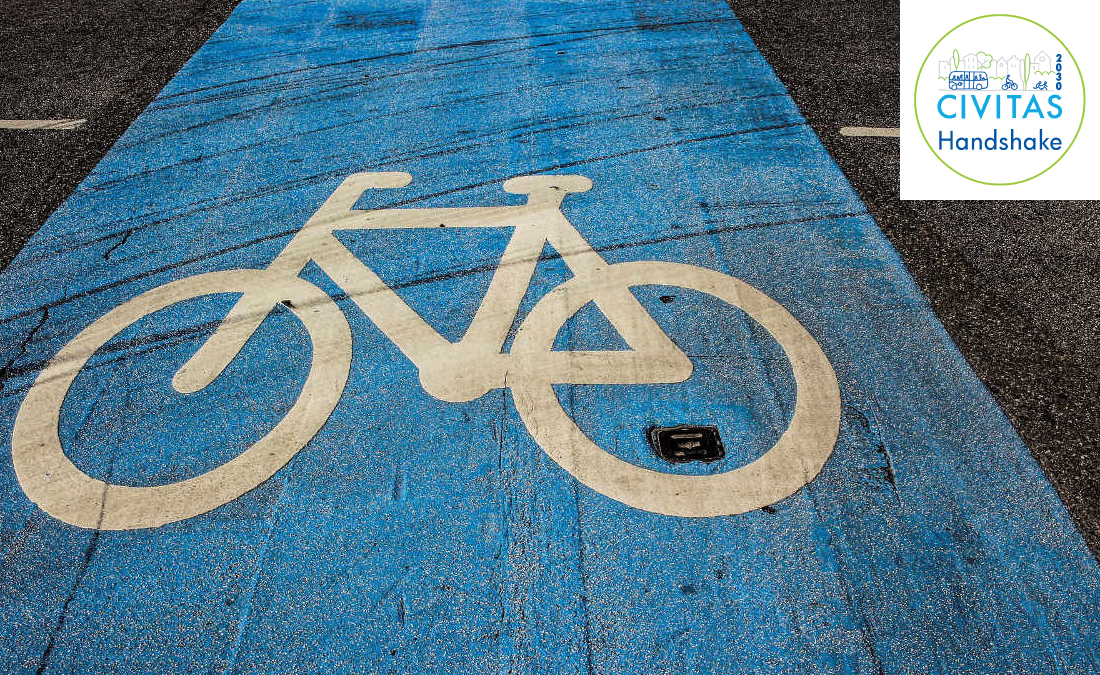 Bringing together 13 of Europe's top cycling cities to share and inspire excellence
Thirteen cities have cooperated on over 60 measures across 23 different types of solutions, which are designed to make cycling a more attractive everyday mode of transport. The Handshake project focuses on all stages of delivery, from planning through to implementation and the monitoring of success. These are aided by governance arrangements that help manage a transition towards a greater quality of life through increased levels of cycling.
European Partners
Three Cycling Capitals (CC) and Ten Future Cycling Capitals (FCC); Six Technical partners (No-profit organizations). The CC are Amsterdam, Copenaghen and Munich. The FF are Bordeaux, Bruges, Cadiz, Dublin, Greater Manchester, Helsinki, Krakow, Riga, Rome and Turin.
Furthermore, five more Technical partners are involved, supporting cities in Handshake, led by the Project Coordinator ISINNOVA: ICLEI, Mobiel 21, Decisio, Urban Cycling Institute and Velo Mondial.
The project in Torino
Cycling mobility in the city of Turin is growing steadily also thanks to large investment from both EU and the Italian Government. The mostly car-oriented mobility culture, built up through decades of street design planning, is now shifting to a more balanced modal mix. However, the city still has one of the highest levels of car ownership in Europe, which means that public areas are congested by cars, representing a problem which could be overcome allocating space for separated bike lanes but also more space for pedestrians.
Therefore, the main goal for Turin was make urban environments more suitable and enjoyable places for using bikes as an everyday mode of transport, exploiting this this project to maximise cycling's modal share and realise the goal aims of managing congestion, improving public safety and health. Under Handshake, cycling knowledge and expertise have been shared thanks to  transfer processes and mentoring programmes together with Rome, as the other italian Mentee, and Amsterdam as the cycling capital Mentor for both cities.
Pratical steps
Jan-Sep 2019
9 sensors underneath 5 cycle paths have been implemented to monitor the number of cyclsts per day that use those infrastructures.
April 2020
New shared service lanes on streets with high traffic flows : (Corso Vittorio Emanuele II, Corso San Maurizio, Corso Francia) On side lanes vehicles and bicycles share the same lane where bicycles have priority with also a bike box before the junction just before the traffic light, and vehicles have a speed limit of 30 km/h.
May 2020
Experimentations with implemention of temporary pedestrian areas (11 streets)
Aug 2020 – October 2022
Decreto Ciclovie 4.9 M€ : 20 km of new cycle paths that connect Turin's urban area with its first belt of municipalitites and extend the existing cycling network connecting the missing links. More safety regulations in dangerous junctions, and mantainance work on existing infrastructures.
Jan 2020
New parking area in the whole city for kick-scooters and sharing mobility services, to allow users to neatly park them in designated areas.
May 2021
REACT-EU 15.5M€: 26 km of new cycle paths, car-free areas close by 10 schools, green corridors, neighbouhoods renewal, new pedestrian streets;
June 2021
New interchange hub inaugurated in Porta Nuova train station by Grandi Stazioni Rail (National Railways company) and the City of Turin, who have financed the implementation of this new Bicycle station, called "Parkin'Station", where commuters can safely store their bikes and catch the train passing through an indoor turnstile in Nizza street.
March – April 2022
Mentoring activities with experts in road design from the City of Amsterdam and collegues of the Mobility Department at the City of Turin. Two workshops held by Amsterdam: 1st) about cycling solutions on roundabouts and junction; 2nd) about Public bike parking and interchange points.
May 2022
Thanks to REACT-EU fundings, 20-25 extra sensors have been planned and will be implemented within the beginning of 2023 on cycle paths.
Numbers
EU contribution to the City of Torino 232.188,00 €
Months of activity: September 2018- August 2022
n. 11 partners
Contribution UE to the City of Torino
Project duration in months